Do you suffer from anxiety? Did you know that specific foods can have a huge effect on reducing or increasing anxiety? Over-coming anxiety without medication requires making lifestyle changes, and one major part is changing your diet. There are foods that help to cure anxiety and foods that contribute to it. By choosing the right foods you can drastically cut down on the amount of anxiety you experience in your everyday life, and even improve your mood.
Critical foods to avoid:
- fried foods
- refined sugars (processed foods)
- alcoholic beverages
These are just some of the foods which can contribute to anxiety, and you should stay away from them as much as possible. The effect these foods can have varies from person to person. One very effective way to find out which foods are specifically bad for you, is a new incredibly effective system called NHD (for further information, just click here). The reason these foods cause anxiety, is due to the body finding them very difficult to digest, and the fact there is little or no nutritional content found in them. It is very difficult to reduce anxiety if your body is struggling to digest the food you consume. Alcohol is especially bad for anxiety as it dehydrates the body and throws hormones off balance, causing anxiety attacks.
Top 3 anti-anxiety foods: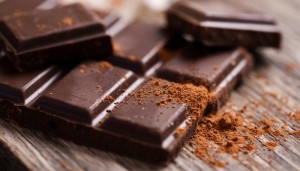 1) Cashew Nuts - 2 handfuls of can have a strong mood boosting effect. Why is this? Well, they are one of the highest natural sources of tryptophan, the precursor for the production of serotonin, the 'Feel Good' hormone in the brain.
2) Chocolate - Especially pure, dark chocolate without the added sugars or milk. This reduces cortisol, the stress hormone that causes anxiety symptoms.
3) Blueberries - These are more then a delicious fruit! Many consider these to be a superfood. They are rich in vitamins and phytonutrients (plant nutrients), with a variety of antioxidants that are considered extremely beneficial for relieving stress.
Again, these are just some of the foods that can help to reduce your level of anxiety. Keep an eye out for our next post on how to eliminate refined sugars from your diet, which will also help to relieve anxiety from your everyday life.