If you want to revitalise your health, it is really important that you understand how digestion works in your body. You see, food is made up of many ingredients: water, proteins, fats, carbohydrates, vitamins, minerals, and essential nutritional factors. Some of these are easy to absorb (e.g. water), while others must be broken down into small pieces. The process of breaking down the foods is called digestion. But the pieces of protein, fat, and carbohydrate are absolutely huge, compared to the tiny pieces that they are made of, and it takes a huge amount of energy and effort to break these pieces down.
There are a complex series of chemical substances made in the body which break these big pieces down into smaller pieces. These are mostly called enzymes (see the post 'How enzymes work'). Making these enzymes, in itself, is a huge job. Then you have to get them to the right place at the right time. Special enzymes are needed to break down protein in the stomach. Other special enzymes are needed to break down starch and fats and these are all produced in a very deliberate sequence. Enzymes that break big pieces into smaller pieces arrive first. And then another battery of enzymes arrive to make these smaller pieces into even tinier pieces, and finally enzymes that break these little bits into the tiniest pieces are produced.
So, let's look at how digestion works in the human body. To start the process, you need to chew your food. This is a lot more important than you might think. Your stomach can then break down the protein into smaller chunks, and as the food leaves the stomach, bile is poured on, which breaks down the fat and neutralises the stomach acid. At the same time, the pancreas produces a battery of enzymes which are squirted on and mixed into the food as it travels down your digestive system. If you don't chew your food well, none of this happens efficiently.

Your small intestine is actually a muscular structure, a tube over 20ft long, which squeezes and squishes the food as it pushes it along. The walls of the small intestine secrete a whole load of other enzymes (to continue the digestive process) as well as hormones. What is most amazing is that all this is controlled by a battery of hormones secreted in different parts of your body. Just to give you one example, a hormone called CCK is produced in the lining of the small intestine, but it controls the speed at which the stomach empties and how quickly the gallbladder squeezes bile onto the food! How does it know when to do this? Well, this is just one more indicator of how amazingly the human body is engineered. Complex beyond measure, it works with incredible efficiency.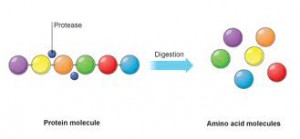 So far, the food has been digested but it has still not reached the end of your small intestine. The next phase is to absorb all those tiny pieces that have been created by breaking down the foods. Proteins break down into amino acids, and there are 22 of them. Carbohydrates break down into glucose (the source of energy for your cells), and fats break down into fatty acids (again a rich energy source). Vitamins and minerals and other essential nutritional factors are absorbed in a multitude of different ways. In most cases, they are absorbed by active biochemical pathways which means that they don't just float into the cells, they have to be actively absorbed and that takes energy. We will discuss this process in another post.