If you have read my post on heartburn, you will understand the importance of using a balanced enzyme product in dealing with this problem. Effective enzyme products are by no means restricted to people with heartburn, they are a powerful natural way of helping anyone improve the efficiency of their digestive system and overcome bloating, pain, indigestion, and wind. Now, let's find out more about enzyme products that work...
So how do they work?
Essentially, they introduce extra natural, living enzymes into your body so that your body doesn't have to work so hard. In reality, they actually end up filling the gap where your body may be deficient in the required enzymes for whatever reason. You will get more background information on the very important subject of digestion in the posts 'Getting the best from food', 'How enzymes actually work' and 'How digestion works in the human body'.
Proactazyme - a universally effective product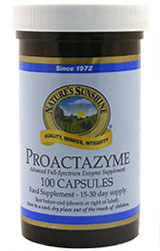 From the other posts, you will have understood that foods need to be broken down. Enzymes that break proteins down are called proteases, and they occur in nature. Proactazyme contains three very specific protease complexes which work right across the spectrum of acidity in the stomach. You see, most enzymes work at a specific acidity. So if you have an enzyme that needs a pH of 4.5 and the stomach acid is pH3 or pH6, then this enzyme simply won't work. Perhaps one of the reasons why this product is so successful is because it covers the complete spectrum pH 3-6 with most of the activity in the middle of the range. It also contains an enzyme that helps the stomach acid break the protein down into smaller pieces (known as a peptidase enzyme). In people with digestive problems this enzyme can often be lacking. Amylase is the enzyme that breaks down starch and lipase is the enzyme that breaks down fats and both these enzymes are present in this one product. Proactazyme even contains enzymes that help break down complex sugars (malt diastase and invertase) and milk sugars (alpha galactosidase).
Of course, all these ingredients are listed on the label but if you don't know what they mean, then they don't mean much to you. Because of the clever formulation, this product tends to work for most people, which is unusual in the world of nutritional products. It also contains a mixture of herbs: Beet root fibre, caraway seeds, dandelion root, fennel seeds, Gentian root, and ginger. Each of these herbs is known to be beneficial for the digestive system. Combined together they seem to work in a particularly effective way, and it doesn't hurt that this formula also contains the enzymes required to break these herbs down (clever!).
I use this product myself frequently if I ever overeat, feel a bit indigested, or if I eat something that I know doesn't really agree with me. The normal usage level is just two capsules with a glass of water taken before or with the meal. And that is it. A simple, effective way of counteracting digestive gas and stomach over-acidity (Click here to buy now). However, remember that you will do well to avoid the foods that you know don't agree with you, and to invest in a simple system of determining what they are (see the free preview video on NHD on this site). Over the last 30 years, I have witnessed many people overcoming their food sensitivities as they deal with the deeper underlying causes involved.
Think about this:
Every part of your body is made up of proteins, carbohydrates, fats etc. The function of different enzymes is to break these down. In the case of your digestive system, the pancreas is one place that produces a lot of very active enzymes. The cells that make these enzymes and the tubes that feed these enzymes to your digestive system are made up of proteins, carbohydrates, fats etc. So why don't the enzymes produced in the pancreas breakdown the tubes which carry them? They are designed to do so. The answer is fascinating! The enzymes manufactured in the pancreas are produced in a special inactive form and they only get activated when they meet very specific substances which are only produced by the wall of the small intestine in the presence of food. How amazing is that?!