Because natural healing is all about getting rid of toxins, and because this is mainly achieved through your five organs of elimination, anything that can strengthen and cleanse them will have a big impact on your body's energy. Low energy is often caused by too many toxins, and as you cleanse the body and eliminate the toxins, your energy increases. There are many ways to achieve this, but perhaps the best one is the use of nutritional herbs. Herbs have powerful therapeutic benefits, especially when used on an ongoing basis, at fairly low levels, for several months. Of course, the trick is to find which herbs will work for you, and that is no small feat. You can certainly have a go at this by just using your 5 senses, and this will often serve you well, however if you want to be sure, then using NHD to identify exactly which product is best for you will work even better. A preview video on how this works and what is involved is available here.
So where do you start when you go looking for a really good natural cleansing product that will increase your vitality? This is a significant challenge as there are thousands of products on the market. What you want to try and achieve is the maximum benefit for the minimum amount of input and the least amount of disruption, remembering that your five organs of elimination are: lungs, liver, bowel, kidney, and skin.
Natures Sunshine is an American company that has specialised in this area, and have a range of products that can help most people. In this post I am going to focus on one particular product known as 'Healthy Starter Pack'. The following information relates to the product that is available in Europe. Due to legislative restrictions in Europe, the product had to be reformulated from its original American cousin. The new European formula is interesting: it is very effective but also very gentle and non disruptive. However, for best effects it should be taken daily for perhaps two or three months, taking just one 'sachet' per day (each sachet contains five capsules). The box actually recommends that you take one sachet three times per day, but for most people this is rather excessive if you're trying to live a normal life. Taking it just once a day with a large glass of water works really well.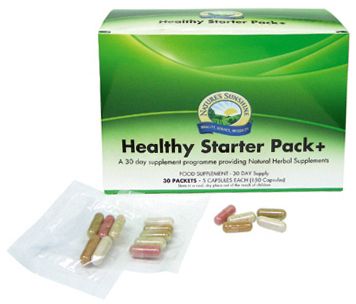 So what is in each of the 5 capsules contained in the sachets? Basically each capsule has a specific function covering the following five areas:
Bowel health
Digestive health
Liver health
Kidney health
Circulatory health
Some of the capsules have many herbs in them. For example, the 'Liver health' formula has 12 different herbs in the one capsule. Others have much less, for example, the 'Bowel health' remedy contains the herb plantago ovata only (also known as psyllium). Psyllium is an interesting herb. The active part is the outer shell of the seed, which when ground up and encapsulated, can absorb up to 18 times its own weight in water. The end result is a jellylike substance that gently travels down your digestive system absorbing toxic material and carrying it away.
The 'Kidney health' formula contains the classic herbs cranberry and buchu, both known for centuries for their therapeutic benefit to the kidneys. The 'Circulatory health' capsule contains classic remedies to improve your circulation namely hawthorn berries, garlic and capsicum.
If you want to know more about how the ingredients in the 'Health Starter Pack' work before you try it, read the up coming post 'NSP Healthy Starter Pack'.  You can also find an extensive video that we made on this product here.
If you would like to purchase the 'Healthy starter pack' for yourself right now, then click here!